Photo by Toa Heftiba on Unsplash
Let Them Know When You Plan to Arrive
Some hosts like to greet you upon arrival, to walk you through the property and answer questions. Even if you don't know your exact time of arrival, you can give your host an estimate and keep them updated if anything changes. On top of this, you should also let them know when you've left the property. An early departure could help your hosts with their cleanup schedule.
Follow the House Rules
If you're unsure about what isn't ok at the property, always refer to their house rules. They may be a few rules they verbally tell you in person or a physical book they keep inside. Get familiar with things like rules for guests, food, and check-out procedures. This can save you and the host a lot of time and confusion.
Tell Your Host Right Away About Issues
Hosts like to do as much as they can to make your stay fun and comfortable. If you're missing something or aren't satisfied with something, tell them! They more than likely can accommodate a reasonable request. It's also courteous to give your host a chance to correct a mistake or improve your experience before you consider leaving a bad review. How can they fix something if you didn't communicate with them?
Clean Up After Yourself
Cleaning up doesn't mean washing the sheets before you leave. But, it could mean putting the trash in one place or separating used linens from the bed. Small things like this can make a big difference for hosts. The house rules may also require you to do many things, so it is a good idea you read them.
If you have questions, always ask your host.
Below are just a few more tips for being a courteous vacation rental guest.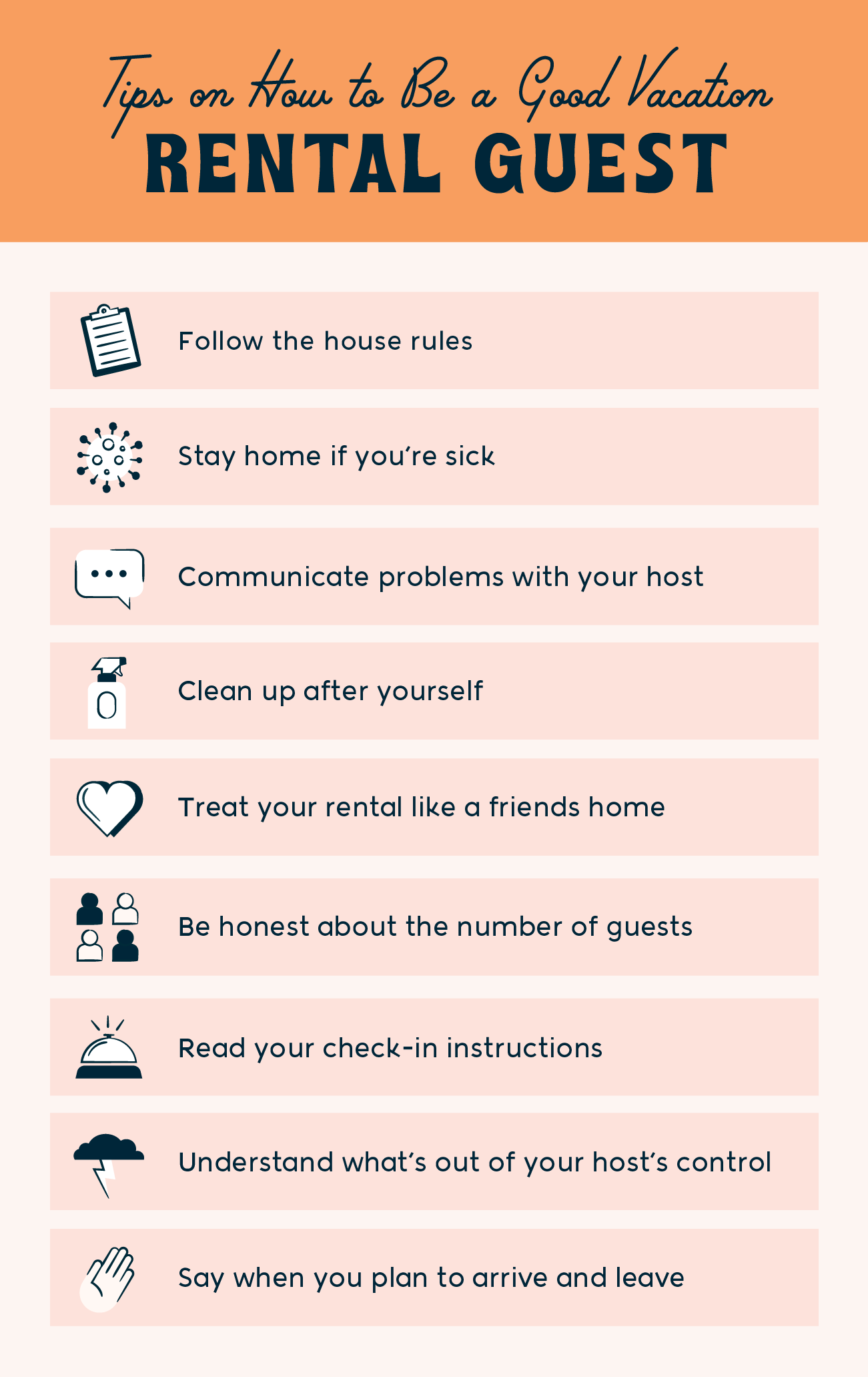 graphic provided by floridapanhandle.com
When you're a courteous guest who follows the rules, you can also avoid being a horror story. Here are a few extreme cases of unpleasant guests, along with simple ways you can avoid these big mistakes.